First Journey to America 1892 - Part 2
The Springfield Republican newspaper article may have garbled the occupations of the two men in Katerina's life – Balev and Tsilka, for Gregory is known to have pursued only his theology studies at the Union Theological Seminary, and then, as a special non-degree seeking student, studying sociology and statistics at Columbia University. But Katerina's memoir generally agrees with what was published. She continued:
I had come to America with the purpose of obtaining such education and knowledge that would help me in my future work in the service of my people in Macedonia. I was gradually convinced that medical training would be the most appropriate for this purpose, but had no opportunity to follow a university medical course. Then some friends advised me to take nurse's training for which no financial means were required. After much hesitation I applied and was accepted at the Training School for Nurses in the Presbyterian Hospital in New York City.
When I was first received by the principal of the school, Miss Anna Maxwell, a tall, dignified woman, serious, with a soft voice and very kind eyes, I was told that perfect discipline and obedience to my superiors and condolence and kindness to the patients were essential if I was to complete the course.
Such was the influence of Miss Maxwell and her personal example that in the life of the nurses "self" did not seem to exist, only the needs of the patients counted.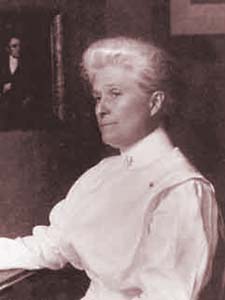 Anna Caroline Maxwell (1851-1929)
The nurse's training course lasted three years. After completing it I decided that now the time had come for me to return to Macedonia. That same year (1900) Mr. Grigor Cilka had finished his theological studies in New York City and was making his plans to return to his country. I had known him for a long time, since he too was a graduate of the Samokov school; we had lately become good friends and as he was going to Albania and his country school, had the same fate as mine (both Albania and Macedonia were provinces under Turkish rule), we decided to unite our fortunes and work together. So we married and went to Korce, Albania to work in the school founded by Gerasim Kyrias. This was in 1900.
As has been pointed out previously, Katerina appeared in the 1900 U.S. Census under the name "Kate Stephanove," when the census was enumerated on June 9th. She resided in Manhattan with a group of nursing students, at 54 West Eighty-Third St. Technically, though, on the day the census enumerator came to call, Miss Stephanove had become "Mrs. Tsilka." Gregory and Katarina were married by the President of the Union Theological Seminary, Rev. Dr. Charles Cuthbert Hall, at his residence, 700 Park Avenue in Manhattan on May 26, 1900.<![if !supportFootnotes]>8]<![endif]>