Katarina's personal memoir does not report the exact date, or the name of the ship she boarded, which brought her to America. However, the 1900 census states she arrived in America in 1892 and given the limited number of people who traveled from Bansko to America in that year, checking through Ellis Island passenger lists, there's little doubt that she is the 23 year old female passenger "Ka. Stefanov" from Bansko, who embarked on the steam ship Pennland at Antwerp, Belgium, and arrived in New York on Monday, August 15, 1892.<![if !supportFootnotes]>[†]<![endif]>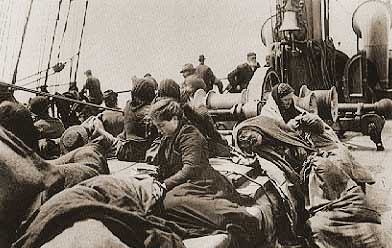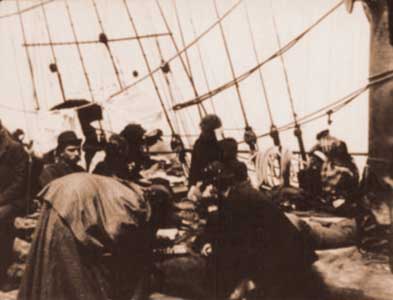 Steerage Deck of the SS Pennland, 1890 and 1893
Having mastered English as a student in Samokov, Katerina would have had an easier time of getting her bearings in New York than many immigrants from Eastern Europe. Had she spent three cents for that day's New York Times, she would have read through a barrage of news about politics, strikes, and one story that still resonates today – news that Lizzie Borden of Fall River, Massachusetts was considered by many to be innocent of the crime that we have come to recall through these familiar couplets:

Lizzie Borden took an axe
And gave her mother forty whacks.
And when she saw what she had done
She gave her father forty-one.
A query to the Northfield Mount Hermon School in 1975 slightly contradicts Katarina's recollection of her sojourn there (the school's records show 1893 to 1896) and the following article appeared in the February 28, 1902 issue of the Springfield Republican qualifies that she did not actually graduate from the seminary: